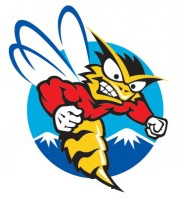 Do you get butterflies before big races?  Getting nervous before a big event is normal.  Some might argue it's essential.  That's why, when I woke up last Wednesday morning with some good butterflies in my stomach, I knew it was going to be a good weekend.  Birkie weekend.
Allow me to explain a little about the Birkie.  It is the largest Nordic ski race in North America, with a rich history starting at Telemark Resort in Cable, Wisconsin in 1973.  The Birkie means a lot of different things to a lot of different people (this year's 11,000+ total participants made it the biggest year ever).  There are Birkie Founders, who have skied every Birkie, Birchleggers who have made the trek between Telemark and Hayward over 20 times, and countless others who have their own unique Birkie stories.
The Birkie and I, however, have a very rocky relationship.  Don't get me wrong, I've got a great relationship with the American Birkebeiner Ski Foundation.  They are a significant supporter of my team, CXC Skiing, they are the most significant reason that I moved to Hayward five years ago; I love skiing the trail in the winter, running it in the summer, and biking in the fall, and all the people involved with the organization, from administrators, to groomers, to volunteers, have been huge supporters of my ski career.
No, it is with the Birkie – the epic, the myth, the legend – that I don't see eye-to-eye.  As Gerry Hanson reminded me yesterday, my very first Korteloppet in 1998 was cancelled due to a lack of snow.  That's how we got started together.  Unimpressed, I missed the following decade's worth of Birkies for other races: Junior Nationals, the Swiss Engadin, and NCAA Championships.  It wasn't until 2007 when I joined the CXC Team and moved to Hayward that I decided to rekindle the flame.  I ran the entirety of the trail, point-to-point, that summer.  I logged volunteer hours cleaning it and getting it ready for winter.  I skied all my intervals on the trail.  Yes, I was ready for the Birkie.  Race week, however, the weather took a turn for the worse and the race was shortened to finish at "OO."  While, technically, I completed the race, it was still not my idea of a Birkie–skiing from Telemark all the way down to Main Street in Hayward.
Once again, I missed the next three Birkies to compete in European World Cups, World Championships, and the Olympics.  This year, however, was different.  I was back in town and ready to ski the race.  Training? Solid.  Conditions? Phenomenal.  Ready? Fired up!
Back to Wednesday morning.  A healthy dose of butterflies in my stomach when I woke up was a good sign for the weekend ahead.  I went for a relaxed ski with my teammate Brian Gregg to get the butterflies flying in formation.  Afterwards, my appetite was less than normal and I took a brief nap instead of eating lunch.  As the afternoon progressed, the butterflies got worse.  I got an email from Mikey Sinnott saying that several of the skiers staying at Telemark had gotten a stomach bug.  Oh no, I thought, I'm going to get the flu three days before the Birkie.
At that point, I made sure to stay clear of my roommates, Brian and his wife-to-be, Caitlin Compton, and could stomach only a small bowl of rice for dinner.  Wanting to avoid getting sick, I went to bed early and passed out immediately.  After what felt like a full night's sleep, I awoke at 11:30pm.  This time, the butterflies had congregated in my right lower abdomen.  It felt like they'd stung me.  Hard.
The rest of the night was restless, until the pain became too much for me to even roll over.  "Maybe I'm being a pansy," I thought, "but I need to get to the hospital."  At 5:30am I was on my way to the emergency room.  I knew that was the right decision when a deer walked across the road in front of me and I quickly moved my foot from the gas to the brake.  Ouch!  Possibly the most searing pain I've ever felt.
Sure enough, the ER nurse diagnosed my symptoms as appendicitis.  The ER doctor diagnosed my symptoms as appendicitis.  The surgeon, preliminary tests, and CT scan all diagnosed my symptoms as appendicitis.  Before I knew it, I was getting knocked out by the anesthetic.  The last thing I remember before going under was hearing the nurses laugh when I told them I was still going to be competing in the Birkie on Saturday. . .
It just so happens that my nurses were Sarah Krasean, her Mom Martha, and Aunt Susie.  In fact, we'd all been skiing together the week before.  Needless to say, they took great care of me.  For my first (and hopefully last) visit to the Hayward hospital, I was very impressed.  Coach Gus stopped by right after the surgery and entertained me with stories of his appendectomy, Donovan & Chris Dums stopped by and Chris, an ER doc himself, informed me of what would have happened if had I arrived just a few hours later and my appendix had actually burst (at least another week in the hospital, to say the least), then Gregg, Mikey, and Gelso stopped by in the evening and had me laughing so hard I thought my appendix actually was going to burst!  I damn near bit my tongue off trying to stop laughing.
The visitors and hospital staff were awesome.  The food, on the other-hand, was terrible.  Remember, I hadn't eaten in about 36 hours, so I was hungry and could've eaten anything.  Instead, they kept me on a liquid diet to be sure that everything went okay.  My first meal: ice chips, hot water, a packet of dry chicken broth (think Ramen – hold the noodles), apple juice, orange juice, decaf coffee, red jello, and orange sherbet for dessert.
It was a disaster.  I accidentally poured the dry broth into the decaf coffee instead of the water.  Yuck!  Then I proceeded to give myself Type II diabetes with all the sugar water they'd given me for "dinner."  Some people may hold McDonald's and fast food responsible for the diabetes outbreak in the US.  From my experience last week, I'd say hospitals aren't much better and will be writing to both the hospital and the Sawyer County Record to inform them of my opinion.  For breakfast, I received my first solid food in 48 hours: a dry cinnamon roll caked with sugar frosting.  My departure from the hospital depended on my ability to hold down solid food and that roll was my only option.  It was a battle, but I forced it down and was soon on my way home.  Albeit  s l o w l y.
The subsequent days have been good with steady, but again, very slow improvement.  I enjoyed watching Saturday's Birkie on the side of Highway 77 from a folding chair.  Seeing my friends and teammates ski by really made me want to be in the race helping with the battle.  It was certainly exciting to see Caitlin Compton win the Birkie, Jennie Bender take the Classic Birkie, as well as Karl and Eric rounding out the Classic Podium, and Cook getting into the Top-5 of the men's race.  Congrats to the crew!
As for me, I've gained an utmost appreciation for the skiers who have been able to successfully race and complete the Birkie year after year.  While it won't be this year, I know that one year, I will be able to tame the Birkie beast and finish skiing down Main Street in Hayward. . .