Ski racing has taken me to a lot of places.  However, it has never taken me to the center of national political and media attention.  When I was packing for the Madison SuperTour, aka Madison Winter Festival, on Wednesday night, I never would have imagined, even in my wildest dreams, that the next three days would turn out the way they did.
If you've been out of touch with the world for the last three days, you can catch up on recent events in Madison here.  Cork, Eric, & I left Hayward early Thursday morning.  After a couple of weeks in Hayward, we'd been looking forward to getting to Madison for some skiing and culture.  Along the drive, the radio stations were buzzing with reports of protests on the Capitol Square in Madison.  "Cool," we thought, "that's right where we're going!"  Madtown was living up to its reputation already.
30,000 protesters, mostly state employees including teachers, police, firemen, and union workers attended the protest on Thursday.  Needless to say, there was an impressive turnout.  State Street is Madison's pedestrian street linking the University to the Capital.  State Street was full with possibly the most friendly protest I could ever imagine, including teachers and families, despite some exaggerated media reports of "riots."
Of course, being on State Street, there's also some great cuisine and we ate well all weekend, including this curry at Buraka, an East African restaurant in town.
Unfortunately, we found out later that evening that the City of Madison pulled Winter Fest's permit to hold the ski races on Saturday and Sunday.  In addition to the protests, the temperatures were above 50 degrees (see next blog post) meaning the area lakes and ski trails were all flooded.  Bottom line: no ski racing in Madison.  Bummer.
In the end, over 60,000 people descended on the Capitol on Friday, including Jesse Jackson.  The above shot shows the course we were supposed to be skiing on the next day.  Personally, I think they should have held the races.  60,000 spectators and national media attention?  Promoting ski racing doesn't get much better than that!
Instead, I traveled to Green Bay on Saturday with the 15 foreign skiers from Switzerland, Russia, and Norway for the annual Stump Farm race packed with gear into the two CXC Team vans.
Needless to say, it was likely the strongest international field ever for the local Stump Farm invite.
Unfortunately, we missed out on the big SuperTour purse in Madison.  Instead, I won a jar of pickles.  Some of the most savory pickles I have ever tasted!
What was the most unexpected event of the weekend?  The VIP tour of Lambeau Field of course!
Two weeks after the Packers won the Super Bowl, I was able to walk out onto the hallowed ground of Lambeau Field. It was like a pilgrimage to Mecca.
I think I was the only person in the group to have any appreciation for what we were actually doing, but man, it was cool.
We even got to check out the locker room. . .
. . .and see a replica of the minnesota vikings trophy case 😉
We've now got another 15 Packer Backers from the international Packer Nation.
To break up the long drive home, we stopped at a snowmobile bar in Wisconsin for burgers and fries.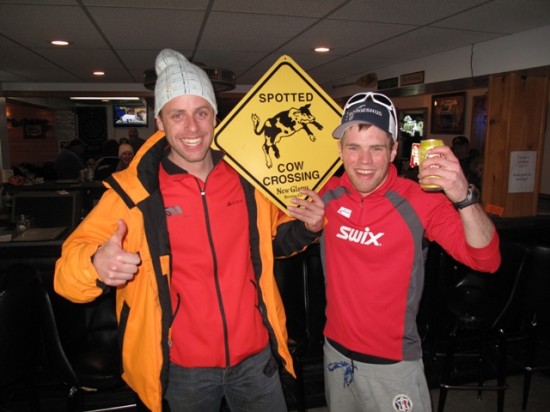 After an eventful weekend, it was great to be back home in Hayward last night.  The Birkie trail was as fast as I've ever seen it this morning and I'm looking forward to the big Birkie week ahead.  Stay tuned. . .